How to Live Stream a Wedding | The perfect online wedding
Are wondering how to live stream a wedding? Everyone loves a wedding, it's a huge occasion that many people love to be invited to and enjoy attending. In 2020, coronavirus (covid-19) has meant that for many, their weddings have had to be postponed, cancelled or dramatically changed. This has lead us to find new and innovative ways to still have those special days with our favourite people. Although it's not the typical way you expect to get married, live Streaming is a great alternative to have your big white wedding with the guests you love. Instead of delaying your special day, why not consider streaming your wedding? All your guests will be able to watch at the other end of their laptop and enjoy your special day with you. Here's how...
You want your guests to see all angles – not just one. You want them to see it all, from entering the church, to watching the service, to seeing the few guests' reactions. With plenty of camera angles, you can capture every single moment of the big day. The more camera angles there are the better your live stream will be. Having a number of camera angles can capture things differently. It enables you to enhance performance with intimate, closer shots as well as wide angle shots capturing those stolen moments and emotion, as well as the scenery and aesthetics.
The footage of your wedding day is a huge element especially when you're Live streaming. A camera operator is someone who films the content and captures every detail. They are highly recommended for live streaming a wedding as you want to ensure its professional and well-coordinated. 
In addition to this, you want to ensure you have a professional camera to ensure your audience can watch your stream in HD. The camera quality can hugely affect the footage as they deliver higher resolution and can capture higher detail.
Your viewers not only want to see the big day, but they want to feel like they are there with you by listening to every vow and every cheer! By using high-quality audio equipment, it will take your stream from basic to professional making sure that your viewers don't miss a thing – because there's nothing worse than when the audio cuts out for the I do's. From the service to the speeches, you don't want to miss a thing. High-quality audio equipment will mean that your streaming to a clear and a high standard.
You want your audience to feel as involved as possible as if they're there. A great idea in order to achieve this is by including graphics on your stream as it will make it more attractive and unique – think of it as an online order of service! During the service, you can have text popping up of the songs which are being sung, the speeches which are being announced or even some pictures of the bride and groom as a holding page before the ceremony begins. It's a super fun way to engage and include your audience!
Let's wrap this up…
In order to have a successful live stream, there are a number of things that need to be taken into account, but your big day might not be the time to record on an iPhone… Here at Fresh Productions, we can take the hassle away and capture your special day for all your friends and family to feel a part of it. Get in contact today to make your wedding dreams a reality!
Learn more about live streaming or schedule a meeting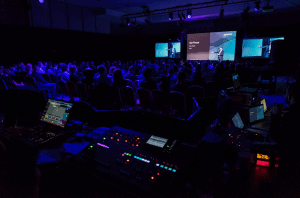 Everything You Need To know About Events Going Into 2022 Want to plan ahead for the New Year? You've come to the right place. Here
Read More »