What are the benefits of having your own Studio Set? How to Improve Online Streaming
Online streaming has become one of the most popular things of 2020. With the help of Coronavirus and the world flipping their attention online, businesses are taking to online streaming every day, for conferencing, product launches and so much more. As great as online streaming is, it can be tough having to set up a camera or an iPhone in your own home, office space or location which is why having your own studio sets are becoming increasingly popular. What are the benefits of having a studio set? Content Creation for online streaming can be made easier and a lot more professional by having your own studio set in a space of your choice.
By having your own studio set it enables you to have complete flexibility over when you can and want to produce your content. You don't have to rely on anyone, or wait for your next slot in your nearest recording studio. You can produce your content whenever you like! Your own studio set is easily accessible should you want to redo or re-record your content or maintain your brand and visual consistency. So gone are the days where you're having to pause on your marketing or wait for availability – you can have your very own studio with all your own possibilities.
Renting out a recording studio for the day isn't cheap! Loads of expenses need to be considered from studio hire, crew, transport costs, to accommodation if it's far. Having our own studio set reduces all these costs. You can have it built in any unused space of your choice which helps eliminate the costs and save time on setup and breakdown. You don't need to worry about finding availability and hiring a studio out for the day. With a one-off cost for your own studio set, you will be getting the best out of your budget.
3. Increases Productivity
Studio Sets allow you to film content at the drop of a hat! As soon as an idea pops into your head, you can bring it to life in your own studio! You can get more done, much quicker. Studio sets take the hassle away as there's no waiting on other people or delays, you can cut straight to it!
A great benefit towards having your own studio set is that you can design it exactly how you want it. You can transform your content and make it yours! It enables you to spend as much time as you like perfecting every bit of your video creation which will really make it stand out to your audience. You can produce more enriched content that can be monetised! Isn't that what every business owner wants to hear?
Let's wrap this up…
There are endless amounts of benefits towards having your own studio set. From producing higher quality content to reducing costs, it's the ideal tool to enhance your business marketing and brand. Does this seem like something your business could benefit from? We can help you make that happen! 
Book a meeting with one of our team today to see how we can transform your empty space and turn it into a fully branded, operating recording studio!
For more information on how to make your business stand out online, get in touch today! Our team will be happy to help!
Learn more about live streaming or schedule a meeting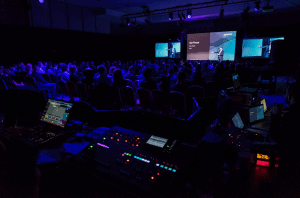 Everything You Need To know About Events Going Into 2022 Want to plan ahead for the New Year? You've come to the right place. Here
Read More »